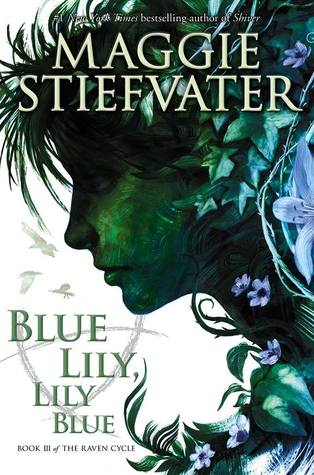 Blue Lily, Lily Blue by Maggie Stiefvater
My rating: 5 of 5 stars
First Impressions:
Why is Blue annoying sometimes?
OH MY GOD, I missed Maggie's writing. It's like coming back home after staying at college for too long and constantly eating the less-than-stellar dining hall food. It's refreshing, amazing, and slightly nostalgic. The writing is so reminiscent of youth, déjà vu that is out of grasp, and meanders at such a leisurely pace that just further allows me to sink in the her words and savor its meaning on my tongue. Okay, now that sounds creepy but I'm so rusty with creative writing so that's as good as it gets when I try.
Pros:
I like that all the characters get an average evenly distributed presence through the book. But poor Noah. It's not hard to sympathize with him since (view spoiler)[he's dead but aside from that, he also gets possessed! (hide spoiler)]. I loved how well Maggie handled the suspense and it nearly killed me every time I wanted to know the secrets of Glendower and Cabeswater. I have grown used to how casually the most important details with utterly purposeful carelessness and how big reveals were delivered without fanfare. I get so gleeful when I figure something or a huge twist comes and I can only reread the passage to reaffirm and accept it. It's very interesting because the plodding writing tricks me into thinking that nothing significant has happening but in actuality, every single detail was whittled to sharp points that served as clues to build into a bigger picture. Each character was important, served as foils, used to emphasize a character development, and change in relationships.
It's such a character-driven book even though the fantastical quest is the ultimate motive and it's amazingly plausible to see how much havoc and change can occur within a year. People grow stronger and weaker, they become brave, bonds are strengthened and severed, they fear, they keep more secrets, and they inexplicably become vulnerable. Gansey, Adam, Ronan, and Blue are initially portrayed as stereotypical people we see in everyday lives, media, and books but there's so much more to them because Maggie pries open the inner workings of their minds and shows us what makes them tick. At least, some parts of it because Maggie is the princess of tantalizing psychological mystery.
I loved the horror element so much. It just further shows how tangible the fears and depths of terror is when dealing with the magical and strange. It's not always rainbows and sunshine and the storyline has gotten visibly darker with each book. J.K. Rowling has handled it really well with the Harry Potter series as we see the crew slowly lose their wide-eyed innocence and meddled into darker horrors. This is great progression and a wonderful metaphor to toy with when it deals with kids on the brink of adulthood and discovery.
One of my favorite passage just oozes hidden meanings without outright saying anything. Sneaky.

"Frosty the clayman," Noah said, amusing himself. "I took it from Ronan's room. Look, it melts…The clay's got metal flakes in it or something," Noah said. "See, it's standing on that magnet. It slurps down and eats the magnet after a while."
They watched. They watched a lot. It moved so slowly that it took Gansey a full minute to even believe that eventually, the metallicized putty probably would engulf the magnet.
"Is this supposed to be a toy?" Gansey asked.
"Ages six and up."
"This is the worst toy I have ever seen."
Noah grinned. He said, "Piss up a rope."
They both laughed uproariously at Ronan's words coming out of Noah's mouth.
The bottom of the clay figure had managed to hide the magnet without Gansey noticing any movement…Gansey shivered a little.
Because it was Noah and no one else, Gansey could admit, "I don't know what I'll do if I find him, Noah. I don't know what I'll be if I'm not looking for him [Glendower]. I don't know the first thing about how to be that person again."
Noah put the clay in Gansey's hands. "That's exactly how I feel about the idea of being alive again."

Cons:
Blue doesn't have any friends and I'm not saying that's a bad thing but only that we never get insight into her school life. Here's what Maggie says about it and I really like her point of view:
http://maggie-stiefvater.tumblr.com/p…
I want a greater glimpse at her social interactions (none?) in school and how she deals with it. I liked that Blue actually planned for the future (hallelujah, it's finally addressed!) in her own unconventional way but the subject seemed to be abruptly dropped afterwards.