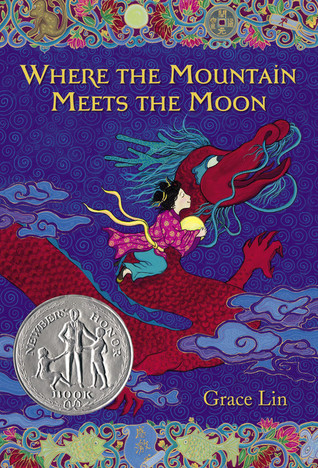 Where the Mountain Meets the Moon by Grace Lin
My rating: 4 of 5 stars
This book is gorgeous, no doubt about that. The full-color illustrations may not be the best or most artistic but I've got to give some credit to the author for rendering simple but picturesque embellishments.
Far away from here, following the Jade River, there was once a black mountain that cut into the sky like a jagged piece of rough metal. The villagers called it Fruitless Mountain because nothing grew on it and birds and animals did not rest there.
Don't let the cover fool you because it looks so laughingly childish that all adults within a 10-feet radius avoid it. For people who have daughters or sons in 3-5th grade, now is the time to pick up Where the Mountain Meets the Moon. The writing still retains its poetic quality even though many sentences are grouped choppily to make it easy for readers to follow along. Lin is dexterous with metaphors and some of these similes forced me to go back and reread the sentence for the sheer description.
The streets were crowded and bustling; the city seemed to be bustling with people like boiling rice.
I had a jolly fun time reading this book because I recognized some of the legendary figures and myths from my childhood or other tales that I read from. The unpredictability certainly helps because children will eat this story up so quickly. For those unfamiliar with Chinese myths, the interspersed legends will be lots of fun and wow readers with cleverness. I tend to always enjoy books that have perfected the art of "metaphor-ing" so it's no wonder that Markus Zusak pleased me immensely with The Book Thief and I Am the Messenger. Grace Lin also mixes this rare talent with her storytelling charisma to form a tale that is both savory and innovative to engage young readers.
The moon's reflection fastened onto the water's surface, and Minli saw why the pavilion was called Clasping the Moon. The image of the moon lay protected in the water like a glowing pearl…

Like the stone dust that the wind blew, thoughts kept circling in her head.
Aside from introducing the myths that surround China, the book paints a mural of values and teaches thankfulness, themes of love, and faith. Although Minli is off on a quest, there's also a guardian who worries and wishes her to be safe.This makes the book more realistic in my eyes and also gives a fresh perspective on parents and emphasizes their love. I can definitely see why this book won the Newbery Honor Award and I'm glad this cultural text is available from nearly every library. The main character is a girl but she's independent and very thoughtful of everyone. Without being fierce or feisty, she manages to befriend others and win over people with her determination. Do you see the positive impact this book can make on little girls and boys? Not more of those annoying or naive girls like Junie B. Jones, Judy Moody, or Harriet the Spy. Hooray for Minli, Matilda, and Winnie Foster!
He seemed to dance in the air, and his happiness made her feel as light as the clouds around her.
Aside from seeing illustrations gracing each chapter title, the pages are thick and texts are sometimes in color. I don't know, I may be biased because I like seeing color and I also love flipping thick pages and that's why I hate mass market paperbacks which just suck in general. Anyways, I recommend this book to people still in primary/secondary school but old people like me are welcome to read it. I thoroughly enjoyed every moment.