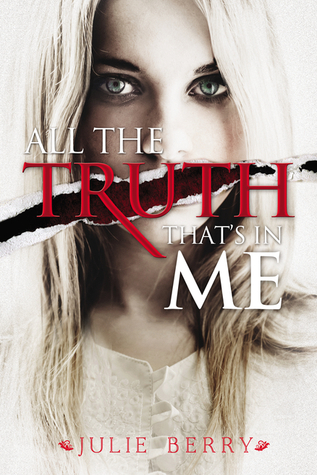 All the Truth That's in Me by Julie Berry
My rating: 4 of 5 stars
A lot rides on the shoulders of the book description which totes it as a mysterious town which shunned a girl who came back after 2 years of disappearance. In truth, Judith was abducted and it's pretty obvious from the start because she returns with her tongue cut out. However, the blurb is extremely misleading and there are crucial details left out which forms the basis of the story and thus, I dove in confused with the setting. However, I'm still satisfied by the results and the mystery drove me on so curiously. Judith's voice is compelling and her actions are reasonable and so well-understood within the boundaries of the flawed society she lives in.
There were so many strikes against this book and I should not have been able to enjoy it but I certainly did. Patricia McCormick's Cut was told in second-person perspective in which the main character is talking or referring to someone else as 'you'. This book, also does the same but it somehow did not annoy me as it did with Cut. It's also split into short chapters numbered by Roman numerals and short (1-3 page) chapters are one of my pet peeves. However, Julie Berry's writing is evocative and the 'chapters' actually flow well together and often stay on the current situation. In Between Shades of Gray by Ruta Sepetys, the choppy writing and the 2-page chapters pissed me off some much despite how unique and tragic the story was. Needless to say, that book about Lithuanians and their harrowing experience in the Siberian concentration camps sadly did not stick in my mind. The Book Thief was far superior not because the plot was more tragic (because it's not), but it was all thanks to the excellent writing. Okay, back to Berry's book. I had all these pet peeves that somehow didn't matter anymore when I cracked open this book and began reading furiously. Frankly, I read this whole book in one sitting and I even missed a planning meeting to cosponsor a multicultural festival.(Shhh!)
Pros:
I was really skeptical about Judith narrating this book as if she's retelling it to the boy she's in love with. Seriously? The girl doesn't know enough about Lucas to be pouring out her thoughts to him. However, I got used to the reference 'you' instead of Lucas. Well, it was actually sweet and I ended up liking Lucas a lot because he's such a noble character who stood out against the backdrop of a judgmental community. Yes, this is a romance but there's a more important story to tell and Judith is slowly healing and picking up the courage to speak out and tell the truth about what happened to her best friend and the past two years of her life.
I predicted the plot twist halfway through the story but there were ambiguous parts of it that I only vaguely dismissed in light of the general picture. I loved the details that eventually matched up the mystery with why Judith chose to remain mute. It's still a heartbreaking story but I felt so much hope emanating from Judith. She was an obedient daughter to her mother and brother despite their cavalier treatment and yet, she remained diligent and was determined to make the best of her situation. Her kindness to others and her lack of bitterness towards her lot in life was a bit far-fetched but I could perceive it as her being resigned to her position. I liked that Judith acted many times out of love for others and her selflessness is truly remarkable. The thrilling aspects of Judith being stalked by someone unknown and hostility from others kept me on my toes and I sometimes didn't know which direction the plot would steer towards.
Cons:
The religion does not take centerpiece but a lot of the way religion is preached makes it out to be something twisted and manipulated for the church's convenience. The community is quick to blame and shun girls for their indecent behavior and Judith's mutism is seen as a seen of God's punishment or divine retribution. Despite her faultlessness, many townspeople are not so open-minded and the church would call her a pariah and ignore her. I didn't realize for a while that there are repercussions (castigation) if people don't attend church regularly. I understand that the ultimate intention was the illustrate a puritanical society dominated by patriarchy but religion played too strong a force that it detracted from the central plot.
---
There is a lot of originality and the mixture of different settings and writing implements were strangely alluring. This was a memorable read and people who like mysteries or romantics would enjoy it.