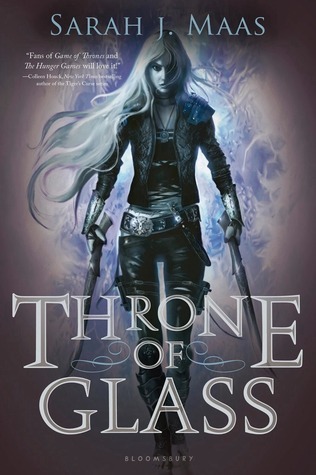 Throne of Glass by Sarah J. Maas
My rating: 4 of 5 stars
In a land without magic, where the king rules with an iron hand, an assassin is summoned to the castle. She comes not to kill the king, but to win her freedom. If she defeats twenty-three killers, thieves, and warriors in a competition, she is released from prison to serve as the king's champion. Her name is Celaena Sardothien.
The Crown Prince will provoke her. The Captain of the Guard will protect her. But something evil dwells in the castle of glass–and it's there to kill. When her competitors start dying one by one, Celaena's fight for freedom becomes a fight for survival, and a desperate quest to root out the evil before it destroys her world.
I can definitely see why this book is so well-received by the community. It identifies well with hard-core fantasy fans because there's gore, magic, and lots of badassery from yours truly. The protagonist Celaena is an assassin which is a smart pick since deadly archetypes are popular with fantasy readers who love to cheer on more than royal characters. There's also a strong presence of romance to market towards YA readers and give them plenty to swoon and agonize over. Upon meeting Prince Dorian, I knew right away that she and he were going to get along just fine. It's true to form for a novel to hint at their romance at the get-go but I felt that it eventually took over the plot and detracted my attention from the magic counterparts. Somehow, the book became a romance with fantasy elements instead of fantasy with romantic subplots. I love fantasy so the parts that I enjoyed the most were the fight scenes, training, and her tenacious ferocity whenever she confronts someone. On the upside, characters, plotting, and pacing were all commendable and expertly crafted.
Pros:
The author definitely sold the character because Celaena Sardothien is like any other 18 year old with the personality of an overly hyperactive puppy. She likes to eat lots of food, candy, dress up in pretty clothes, and read books. Her character development is by far the best because she's turned out spectacularly expressive despite her overwhelmingly gruesome childhood. Her trainer Arobynn has put her through some serious trauma and it's hardened her in some ways but also made her vulnerable in relationships. Being the best in her field of work also tends to acquire enemies and envy rather than friends. This is what led to her current situation when she trusted the wrong people. However, she vows revenge not for how it put her into a death camp but rather for the human collateral damage the betrayers wrought. I personally think it's commendable because the author does a lot of showing, not telling when it comes to reflecting her personality and actions.
In some ways, she's an open book and I like that because it makes her more realistic. She's hardheaded sometimes and is very eager to display her talents but that's reasonable since she gets provoked so often by weaker competition. I COMPLETELY UNDERSTAND, CELAENA. It truly hurts me when people of lower intelligence and achievements insult me like how dare they insult me when I'm better than them.
Do you know how insulting it is to pretend to be some nobody thief from a small city in Fenharrow?"
He stared her down, quiet for a moment. "Are you that arrogant?" She bristled, but he went on. "It was foolish to spar with you just now. I'll admit that I hadn't realized you'd be that good. Thankfully, no one noticed. And do you want to know why, Lillian?" He took a step closer, his voice lowering. "Because you're some pretty little girl. Because you're a nobody jewel thief from a small city in Fenharrow. Look around." He half-turned to the other Champions. "Is anyone staring at you? Are any of them sizing you up? No. Because you're not real competition. Because you don't stand between them and whatever freedom or wealth they're looking for."
"Exactly! It's insulting!"
"It's smart, that's what it is. And you're going to keep a low profile throughout this entire competition. You're not going to excel, and you're not going to trounce those thieves and soldiers and unknown assassins.
Anyways… She's not stupid though and it helps that she knows where her priorities lie. There's a bit of feminism thrown into the mix when she makes an important decision at the end of the book. It ultimately cemented my support for whatever she does because her reasons are justifiable and well-thought out. How come so many female characters commit rash actions without properly thinking through the consequences? I hope Celaena continues to fight for her freedom and acts consistently in Crown of Midnight.
The elaborate establishment of characters took up a good chunk of the book so I'll excuse much of the pointless games played between Celaena, Captain Chaol, and Prince Dorian. It quintessentially achieved what the author wanted: we understand the inner workings of their minds and also comprehend their feelings better than the characters themselves.
This in turn plays well into one of the major events at the end of the book. Chaol does something so out-of-character that it shocks many people but not the reader because we understand what drove him to that point. It is a great plot device that will eventually force him to evaluate his feelings and perhaps change the gears in his relationships. This is a book that explores relationships deeply and although there is a fantasy force that propels the action in the story, interactions are at the forefront.
I really like magic. And I especially like well-explained magic that puts readers at ease without baffling us. It's not a lot to digest and I understand how it works by gleaning a few explanations here and there scattered throughout the story. It's also pretty much in the background and introduced late into the story. There were hints of magic and its involvement a few pages in so I was expecting more once I hit the meat of the plot. The magic element is slowly enmeshed with Celaena's life and Wyrdmarks (the magic in her world) gets mentioned more often as the book progresses. So by the time I start reading the sequel, magic should be in the foreground because it's become crucial in light of the major events and history of the world.
---
Cons:
As some reviewers have said, it's fantasy-lite. This saddens me be because this book had so much potential especially with those kickass fight scenes. There's a bit of political intrigue but not enough to cover up the enormous backdrop of a romance. The whole story in fact, was dominated by the love triangle and I kind of got sick of it halfway through.
He wouldn't be intimidated, even if she could grab that billiards cue and skewer him with it in a matter of seconds. "From your playing, it seems that you're a great deal more than that."
"What do you mean?"
"Well," he said, trying not to get lost in her strange, lovely eyes, "I don't think anyone who plays like that can be just a criminal. It seems like you have a soul," he teased.
"Of course I have a soul. Everyone has a soul."
She was still red. He made her that uncomfortable? He fought his grin. This was too much fun. "How'd you like the books?"
"They were very nice," she said quietly. "They were wonderful, actually."
"I'm glad." Their eyes met, and she retreated behind the back of the chair. If he didn't know better, he would have thought himself to be the assassin!
Friendships were weak and I did not have a full understanding of the plight of the nation and the extensive tyranny of the king. I expected more from what the book blurb had marketed but the novel also exceeded my expectations in other ways.
Throne of Glass was undercooked and could have been better structured without the gratuitous interactions between Celaena and her love interests.
"I'm getting a drink," muttered Chaol, and walked away. She watched the captain for a moment. It would be a miracle if he considered her a friend. Dorian caressed her back, and she looked at him. Her heart jumped into a gallop, and Chaol dissolved from her thoughts, like dew beneath the morning sun. She felt bad for forgetting him—but . . . but . . . Oh, she wanted Dorian, she couldn't deny it. She wanted him.
"You look beautiful," Dorian said quietly, running an eye over her in a way that made her ears burn. "I haven't been able to stop staring at you."
At the same time, the novel acts as an intricate setup for the next book so I'm looking forward to more fantasy and high-amp risks.