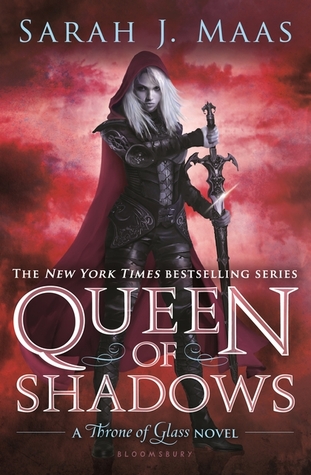 Queen of Shadows by Sarah J. Maas
My rating: 4.5 of 5 stars
That was a spectacular story packed with so much action, ferocity, and amazing twists.
I've noticed over the years how my pet peeves and certain tropes have tended to make me biased. This is a biased review. This book is not perfect and it's bound to contain a lot of flaws since it's a whopping 650 pages long. And let me tell you, it will take a while to get through but the time it takes to read will fly by.
Spoilers for previous books ahead:
I've always placed the utmost importance on plotting and there was so much going on that I'm awed by how the author still manages to squeeze a lot of character development in. There's new characters introduced and things have definitely changed while Aelin was away in Wendlyn. One of the first things that stood out to me was how Chaol became so embittered. Right from the beginning of Aelin and Chaol's interaction, I noticed how he acted as if he had a chip on his shoulder; well, that was new. Of course, he went through many losses, heartbreak, and exile but while it only made Aelin stronger, he did not seem to recover to it. This peeved me because the author wrote such a dynamic character who had a lot to figure out but he was not consistent in Queen of Shadows. He felt like a completely different person molded to fit the author's purpose. He was no longer a staunch supporter of Aelin as he had been in Crown of Midnight. Is this because Rowan replaced his role? I think so. Basically, he was not needed anymore. He's still important, of course, but he's pushed to the sideline since he has no magic whatsoever to boast of so he's practically useless.
Now on to the juicy, good stuff:
There's a lot of action, devious planning, and underhanded tactics going on. Whereas I had thought the struggle to be two-way, it turns out there were hidden enemies (King of the Assassins, anyone) that emerged to trouble/help Aelin. Adarlan is plagued with debauched characters and I liked how Aelin showed her dogged determination and cunning when she dealt with them. From what Chaol and the title hinted at, it seems that Aelin is more of an anti-hero than the standard YA heroine. She kills but her methods are orthodox to her upbringing which means it's super gory, unladylike, and very polarizing. Readers like me drank it up like crazy because we finally have a 'fire-breathing bitch queen'. The author pulls all the punches and there line between good and evil becomes blurred. In order for Aelin to keep up with her enemies, she has to be more ruthless than them and always one step ahead. Despite the facade she carried, it's very obvious that she's tired and heavily burdened. That's why I'm ecstatic that the supporting characters who join her court are strong and able to take care of her.
I've been wondering when Aelin would receive the tight-knit group of rebels that she sorely needed. She lost Sam and then she lost Nehemia. Dorian had bigger things to worry about than her, and Chaol wasn't able to monitor her well, so thank goodness for her new court! The plot flowed very well because it was driven heavily by the characters and anyone who's read these books will know how active the characters are. Especially Aelin who is always scheming; she's still overly protective of her friends so that means there's so many plans going on right under their nose.
There's also Manon Blackbeak who had worried me initially due to the moral direction she seemed to take. For those who had anticipated a convergence of these two's perspective, rest assured because they do meet. Albeit it was a bit delayed than expected since they didn't meet at all in HoF, the culmination of the wait is well worth it. I enjoyed how diverse these two's personalities are and yet how similar their upbringings were. I loved the quote "You were made, made into monsters." It's like two sides of the same coin because Manon is a witch and Aelin is a fae and yet they are both very fierce and loving in their own right. Manon becomes more fleshed out and readers learn more about her Second and Third-in-Command. It's a moving story, actually and I enjoyed her point of view much more than I did in Heir of Fire.
Also, bless Kaltain, one of the most underrated characters in the first book! She's a sort of anomaly because she is one of the people who was truly discarded and forgotten about. I'm glad the author included her in QoS because she wasn't necessarily a bad character in ToG and I wondered what was happening to her. Let's just say she's stronger than anyone anticipated and she knows more than she lets on. There's a lot of female empowerment especially with Lysandra who is a blast from the past for Aelin. I really liked her because she defied all stereotypes and female norms sanctioned in place for a woman of her ranking. She's a prostitute and yet she has a free will along with her own motives. When Aelin lost Nehemia, Lysandra was the perfect person to heal the scars in her heart.
I think a lot of people have been holding out hopes for a Rowan cameo. He's there, alright. I like him more because he's become more expressive. However, I think it's a bit unrealistic because he was formally so cold towards Aelin. Now he is like a cinnamon roll but he's still deadly.
Conclusion:
Magic is very powerful. The plot contained a lot of twists and turns that I myself didn't even see coming. A lot of mysteries were uncovered and we find out why affairs are the way they were. So there actually was more to the king than I thought. Seriously, I just assumed he was an ambitious young man who simply turned greedy and evil from power.
Spoiler (highlight to see but DON'T LOOK IF YOU HAVEN'T READ THE BOOK YET):So the talking skull knocker didn't mention the duke following the king down to explore the tombs! I'm wondering what's going on because that's super fishy since that means Elena also withheld that bit of crucial information. ~
Anyways, please comment your thoughts on the book and let me know what you think.
View all my reviews