Disclaimer: Thank you to NetGalley and Random House (Delacorte Press) for providing me with an advanced copy in exchange for an honest review.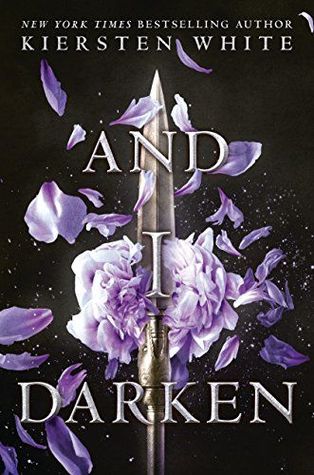 And I Darken by Kiersten White
My rating: 3.5 of 5 stars
Hardcover, 475 pages
Expected publication: June 28th 2016 by Delacorte Press
Summary: NO ONE EXPECTS A PRINCESS TO BE BRUTAL. And Lada Dragwlya likes it that way. Ever since she and her gentle younger brother, Radu, were wrenched from their homeland of Wallachia and abandoned by their father to be raised in the Ottoman courts, Lada has known that being ruthless is the key to survival. She and Radu are doomed to act as pawns in a vicious game, an unseen sword hovering over their every move. For the lineage that makes them special also makes them targets.
Lada despises the Ottomans and bides her time, planning her vengeance for the day when she can return to Wallachia and claim her birthright. Radu longs only for a place where he feels safe. And when they meet Mehmed, the defiant and lonely son of the sultan, who's expected to rule a nation, Radu feels that he's made a true friend—and Lada wonders if she's finally found someone worthy of her passion.
But Mehmed is heir to the very empire that Lada has sworn to fight against—and that Radu now considers home. Together, Lada, Radu, and Mehmed form a toxic triangle that strains the bonds of love and loyalty to the breaking point.
The entire book was way too long for my liking. It spanned the birth of Lada up to her teenage years.
---
They watched as the head gardener slit an opening into each man and then, with practiced efficiency, inserted the long, thick wooden stakes. The men were lifted into the air, and the stakes planted into the holes in the ground. Lada saw how the men's own weight would slowly pull them down, forcing the stakes higher and higher along their spines until they finally exited through the throat.
The history and culture of the Ottoman Empire is richly told and I was greatly immersed in that time period. The writing wasn't bad but my eyes glazed over several times during the passages. For some reasons, it doesn't flow that well but I can see that it is indeed well-thought out. Each sentence had impact and conveyed the proper mood.
"You cannot lose something you do not own. Take me with you."
With a frustrated growl, he tore the veil from her hair and threw it to the ground. "You look ridiculous. Armor suits you far more than silk."
Lada put a hand to his check. His skin was soft and hot, always hot, as though he burned brighter than a normal person. Her voice came out a low purr, so like Huma's she startled herself. "Take me with you, and I will wear armor the whole time."
There was a lot of focus on building characters' flaws and amplifying its fallacies. Mehmed is obsessed with Constantinople and his rabid desire to conquer it does not bode well.
Lada laughed. "Then do not try, little sheep. Ted to your flock. Patrol your borders. No one ever said you had to take Constantinople. It is only a dream."
Mehmed's eyes burned when he looked up at her. "It is not simply my dream."
She rolled her eyes. "Yes, I know all about your precious prophet's dream."
He seems like a future villain although growing up, he's been made out to be a have a lot of potential to fulfill his duties as the future sultan. His weakness is his confidence that has no basis because he is still untried and ignorant of court politics. Radu went through the most complicated development because his dexterity with words should have favored him with friends in his childhood. Weak in strength, he relies much on his sister, Lada, for protection but he learns quickly on that she won't cut him some slack. Lada, the protagonist, is vicious and temperamental; she is quite the foil for Radu. Whereas his long lashes and large doe eyes can charm the hell out of everyone, people tend to skirt around Lada and avoid any interaction with her. She is clumsy with words and always lashes out when she is angry, embarrassed, and/or hurt. I'm rather disappointed that she's not the brightest but she more than makes up for it with her brawn. She does have extensive knowledge and skill with tactics and strategy but she's often blindsided by emotion in personal relationships.
Radu and Lada are Mehmed's rocks that have stayed throughout his childhood up to his emerging adulthood. With such steadiness for years, change is bound to rock this foundation of friendship by the end of the book. There were many things that I predicted would happen and White foreshadowed the future through the trio's thoughts. I wished that she had left much of unsaid and kept the reader in the dark to give a better reading experience. The long years that White documented gave her a lot of freedom with dredging up momentous events that impacted each character severely. In a way, reading the first hundred pages was a laborious task that I had to force myself to go through. I felt that much of it was page-filler and made for an unnecessarily longer book.
The politics is interesting but nothing too complex. Now that we have most of the worldbuilding out of the way, I hope that the focus in the sequel will be on events that propels Lada to acquire the name Vlad the Impaler. Yes, we never did get to that part in the first book. This novel encompasses a wide span of years from 1435 in Transylvania to the 1450's. By the time the book ends, Lada and Radu are around 16 and 15 years old, respectively. I, on the other hand, aged an approximate 5 hours finishing this book.