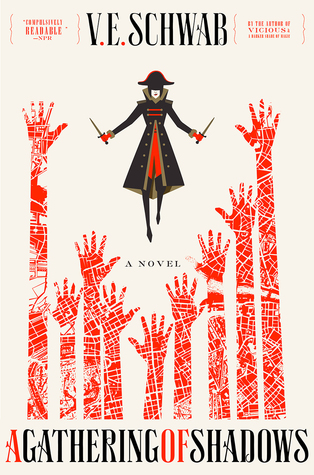 A Gathering of Shadows by V.E. Schwab
My rating: 5 of 5 stars
Everyone, GO READ ANYTHING BY VICTORIA SCHWAB.
A Gathering of Shadows is the second book in the 'Shades of Magic' series and I'm beyond ecstatic to know that there's a third book coming out. Back when A Darker Shade of Magic first came out, I was disappointed to discover that it was a standalone just like her other book Vicious. There was just something about her book that had that extra omph which made me crave more of the writing. Especially the way she ends the story leaves many loose ends and so much to speculation.
Victoria's writing has always been excellent but her writing just flies off the pages in this novel. Especially with the premise of the Element Games Tournament, the excitement is palpable and I felt entrenched in each match from the beginning to the aftermath.
Lila didn't try to be a wave, or a door. She simply pushed, not with force, but with will, and the wall of fire shot forward, barreling toward Sar. To Lila, whole thing seemed to take forever. She didn't understand why Sar was standing still, not until time snapped back into focus, and she realized that the wall's appearance, its transformation, had been the work of an instant.
A shout out to one of the cutest characters in the book! In the words of Schwab, "T.O.P. inspired a tournament magician named Jinnar, a sexy and adorable wind mage."

Also a heads up, A Gathering of Shadows continues Schwab's trademark cliffhanger that is simply unfair to all readers. Basically, everything is left unresolved and now I can't wait for the third book in 2017!
---
WARNING: MINOR SPOILERS AHEAD
The truth was, Lila understood why Alucard did it. Why he traded safety and boredom for adventure. She didn't know what it felt like to be safe, and she'd never had the luxury of being bored, but it was like she'd once told Kell. People either stole to stay alive or to feel alive. She had to imagine that they ran away for the same reasons.
*SCREAMS INTERNALLY*
Alucard has got to be one of my favorite new characters. Aside from his name spelling Dracula backwards, he's another enigma with a disreputable past tangled up with Rhy and he's a hard one to figure out. He's not very forthcoming but neither was Lila. The author always does a skillful job of writing out intricate characters with dynamic personalities that change over the course of the plot. Although Alucard changes slowly and surely, he retains the same charm and nonchalance throughout. HE SHIP HIM SO HARD WITH RHY. He has a lot of hidden strengths and edges so I look forward to seeing more of him in the next book.
Now, Lila, that girl is just fierce. She continues to surprise me and manages to overcome each new obstacles with her cleverness and quick thinking. Her rise from a street thief to the empowering magician is simply astounding. I relished the journey she went through to get where she is and I loved that she still cared about what Kell thinks. Despite her hardheartedness, she really does like Rhy and Kell. Shes' a softie underneath that tough exterior. She's the true MVP in this story. Honestly, she's grabbed everyone's attention and is THE main character. (At least for me but I don't know how Kell would feel about that.)
What are you? Kell had asked her once.
What am I? She wondered now, as the fire rolled across her knuckles like a coin.
I think by now, everyone has a hint of what's going to happen with Lila, Kell, and Alucard. There are still a few plot twists thrown in so the story is never boring despite the Element Games not taking place until 200 pages in. However, I still think the Tournament was the most exciting part of the book because there's so much flourishes and it easily goes from mildly amusing to frenetic within a few sentences.
"Rensa tav," answered Kell automatically as his chest hummed with nervous energy. What was he thinking? What was he doing here? This was all a mistake…and yet, his muscles and bones still ached for a fight, and beyond the tunnel, he could hear them calling the name–Kamerov! Kamerov! Kamerov!–and even though it wasn't his, it still sent a fresh burst of fire through his veins.
Nonetheless, it's not just all fun and play because a lot of crap really went down in ADSOM and there's so much trauma in the aftermath of the wreckage. Rhy still suffers a huge amount of guilt and Kell is no longer the way he used to be. Even the king and queen are skirting around and holding grudges.
His voice fell a measure. "I think the king and queen are mad for blaming one son above the other."
Kell swallowed. "Will they never forgive me?"
"Which would you rather have? Their forgiveness, or Rhy's life?"
"I shouldn't have to choose," he snapped.
This whole compromise is bound to have many costs. Kell is chaffing at his leash and Rhy is resentful towards everything. In a way, they survived but they're still broken. I love the way Schwab writes these flawed characters beautifully; they elicit such empathy and support from the readers. They're still resilient and strong despite all the tribulations and Lila is a perfect example of it. Everyone, just be like Lila.
Major Spoiler:
And that ending!! ((Lila is an Antari. I CALL IT. She's got one fake eye, that's a sign that she's probably had a black eye in the past. Anyways, I ship her so hard with Kell. UGH THE OTPS ARE STRONG IN THIS NOVEL. Rhy and Alucard. YES PLEASE.))