I'm finally back (for now lol)!!! And this time, with a review!! I finally found time to read and this was one of my most anticipated sequels for this year and let me tell, IT DID NOT DISAPPOINT. **No spoilers**
---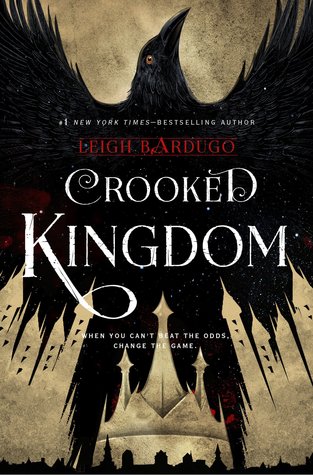 Crooked Kingdom by Leigh Bardugo
My rating: 5 of 5 stars
Crooked Kingdom was everything that I did not know that I wanted. Those subtle hints in the first book where readers shipped some people together…they have sailed. Bardugo knows how to pack a tense, action-filled adventure and I loved how the plot was almost like a mystery where small hints are dropped throughout the story and then a full-blown reveal occurs near the end. Typical, I know, but it is quite alluring and ingenious when it is done right. I'm so enamored by the writing because it has the right amount of detail, wit, and complexity. Half of the battle I have with reading is whether I enjoy the writing style.
And the characters. The book is told from different perspectives and it was easy to distinguish each voice as each character is so unique. We get a lot more background information and there were a few flashbacks that helped me understand the context of the current situation. They felt seamlessly written into the plot and I really enjoyed getting to know each character. I was frequently reminded that the cast were predominantly teenagers and it sort of changed my view on them. They were cynical but not to the point that it was unrealistic. They didn't act like adults even if they sometimes planned like one. This made them much more tangible to me as genuine people. The antihero theme is now cropping up everywhere in literature and I really liked how the book portrayed its cast. There were delineations of exactly who the bad guys were but the good guys weren't exactly cookie-cutter perfect. Kaz makes a lot of difficult choices and tries to change for the better, but his scars run deep and he lets no one close. I would love to have a spin-off about Kaz's future because he has so much potential impact that's tied with Ketterdam's fate.
The story line was flawlessly intertwined with subplots and small snippets of anecdotes scattered throughout. The world-building has been impeccable from the start so there was an obvious shift in focus onto character development and Ketterdam. I would categorize the book into scenes of confrontations, conning, and scheming. Even on the downtime when plans were coming into play, I was heavily invested and engrossed by the interactions. The plans were very meticulous that I felt muddled sometimes because I would lose track of which roles each character would take. However, that is something an author must sacrifice in order to accommodate a wide range of characters. Honestly, this book would be so fun to read again just to watch how events unfold.
Shout out to Henry Holt for the pre-order gift! Slice and dicee