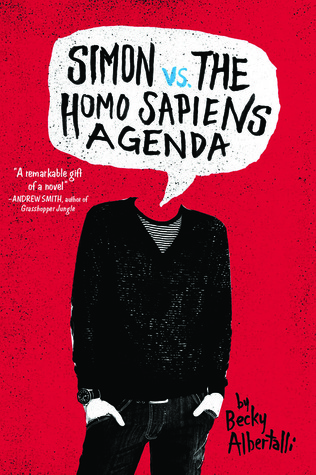 Simon vs. the Homo Sapiens Agenda by Becky Albertalli
My rating: 4 of 5 stars
Becky Albertalli honestly gets kids. She understands us on a deep level and Simon is like my spirit animal. Leah, on the other hand, is my inner fangirl and she's literally so shameless with her cosplay of Tohru from Fruits Basket and all the anime plushies.
---
I admit this book is not one I would voluntarily pick up on my own will. The cover doesn't really scream 'BUY ME' and the title is confusing because it gives no hints as to the plott. However, the clothes on the guy is contemporary and that's a genre I generally steer clear of.
Don't get me wrong, I have nothing against contemporary YA but I think I'm past my prime because it no longer interests me. I'm not in high school anymore and I can't seem to get immersed in high school YA nowadays. It was never really my cup of tea because I had always enjoyed the fantasy genre more. Besides, I've basically read them all: the cliques, tropes, mysterious guy, gossip, and drama all ensconced within a classroom.
So I'm pleasantly surprised by this book because Simon is a refreshing character with his own unique traits. People have pegged him as the theater geek but he knows he is more than that. He is also more than just a gay character. As a teenager, identity crisis is very real and no one knows it better than Simon. He believes that he is always changing and he's afraid of who he's becoming because he doesn't 'feel' the same.
It's not even about me being gay, because I know deep down that my family would be fine with it. We're not religious. My parents are Democrats. My dad likes to joke around, and it would definitely be awkward, but I guess I'm lucky. I know they're not going to disown me. And I'm sure some people in school would give me hell, but my friends would be fine. Leah loves gay guys, so she'd probably be freaking thrilled. But I'm tired of coming out. All I ever do is come out. I try not to change, but I keep changing, in all these tiny ways. I get a girlfriend. I have a beer. And every freaking time, I have to reintroduce myself to the universe all over again.
His innate fear of change doesn't stop him from trying new things aka beer, parties, and making new friends. Simon and his group of friends have the best types of interactions: they're casual, they talk about everything and nothing, and they bond through their experiences. Ahhh, it reminds me of my happy-go-lucky days.
Since this story takes place in a backwater town in Georgia, Albertalli shines light on relevant issues that exists in such an area. There's the racism, bigotry, and anti-gay mindset which makes Simon reluctant to reveal his orientation.  Simon has a great support system and he has long come to terms with his sexual preference. He also has a multicultural group of friends. (That's an A+ in my book for promoting diversity in books!) In that sense, he's got most of his life figured out but it's not ideal to come out of the closet in front of his non-progressive town. The plot was character-driven heavily and it was so sweet and cute (YES, IT WAS ADORABLE) to watch Simon grow and experience new things through his snarky, ingenuous perspective. His voice was hilarious and relatable. I really felt like a teenager again.
[Email to Blue:] So, I keep thinking about the idea of secret identities. Do you ever feel locked into yourself? I'm not sure if I'm making sense here. I guess what I mean is that sometimes it seems like everyone knows who I am except me. Okay, I'm glad you mentioned homecoming, because I totally forgot that Spirit Week is this week. Monday is Decades Day, right? I guess I should check online so I can avoid making an ass of myself. Honestly, I can't believe they schedule Spirit Week right after Halloween. Creekwood really blows its load on costume days all at once. How do you think you'll dress up for Monday? I know you're not going to answer that. And I totally figured you'd be ogling the cheerleaders on Friday, because you're all about the ladies. Me too, Blue. Me too.
Thank you Albertalli for mentioning how hard the job of a teacher is! Yes, teachers get some credit for doing a good job in this book and I'm elated because it gives me hope for positive representation in YA as a future teacher! (Oftentimes, teachers are insignificant and pushed aside in contemporary YA but we want our parts too!) I love the email exchanges between Simon and his secret guy, Blue. They're very honest and open with each other which is rare because communication is so complicated in the real world right now. People be playing mind games whenever they text each other.
So should you read this book?
LGBTQ is an important topic and I'm glad to read a book that showcases it from a gay teen's perspective. Sure, you can read books that have gay characters but it's different when you are involved and reading about a gay main character. So yes, read this book and enjoy it not just as an LGBTQ book but as a book about high school, Oreos, romance, and Oliver! musicals.