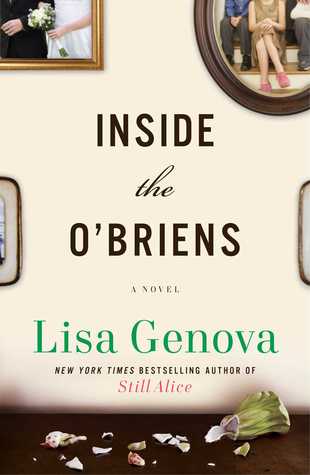 Inside the O'Briens by Lisa Genova
My rating: 4 of 5 stars
Lisa Genova is an excellent writer and if I did not read Still Alice, I would not have known how much style she was able to incorporate into each word. Whereas Still Alice was clean-cut, highly intelligent and talks about a smart upper middle-class family, the O'Briens are old-gen Irish working/middle class. They're not educated and it just cuts deeper when they are hit heavily by Huntington's Disease. They're not as aware of the consequences since they learn about it so late so relations do not go smoothly and many are unable to cope with the fear.
The O'Briens hit rough patches occasionally but this new one that hits Joe, the father, is a make-it-or-break-it kind. It's something that's irreparable and I loved watching the intricate emotions that bind each of the family members to each other. Joe has two daughters, Katie and Megan and two sons, JJ and Patrick. They all have a 50/50 chance of getting Huntington's. It's truly sad to see how knowing or not knowing if they have it can wreck havoc on their minds and affect their careers. In case you didn't know, Huntington's messes with coordination, causes involuntary movements, and slowly causes the victim to lose control of the body over the course of a decade or more. This means the person will be eventually be rendered speechless and helpless to do anything.
It took me a while to realize that Katie was the second protagonist and her life was center focus aside from Joe's. She needed to make decisions that for her, seemed insurmountably hard to choose between. Once the narrators switched, I felt aggravated by Katie and her indecisiveness which is a major trait that has defined her whole life. I understood the reasons and why Katie is the way she is but it's just difficult for a reader to sympathize with someone so unlikable. However, the writing was top-notch and the story compelling. The message is clear: this disease causes stages of grief and can break a family down unless they stay resilient and support each other. There were so many great things about the book and it ultimately succeeded in making me care without manipulating my feelings.
Joe is very unique and the style of writing greatly conveys what kind of man he is. He's caring and deeply loves his wife and children so it's all the more devastating when he lashes out irrationally (because of the disease) at everyone. It's a stark portrayal of 'Life After' which is can never be the same again. However, I loved that some changes became positive because this family decided to bond and become stronger than they've ever been. They took control of their lives and decided to take healthy risks to do what they've always wanted to do. Katie stops being an indecisive dumbass and does something good for once. Patrick is still a mess but at least he's communicating with his family. JJ is finally going to start his family. And Megan is just a strong character that becomes stronger and lives by the motto YOLO.
Of course, I did not miss how detailed and well-informed the author was when she started describing the Boston Red Sox games and also went through Joe's police officer day regime and routine. She manages to integrate these details and make them essential in the storytelling and normalize it as a part of the O'Brien's everyday life. I loved that the conflict was different for each character despite the fact that they were linked together. The disease was not overblown and used to manipulate our emotions. Things still happen outside of that spectrum and in short, life goes on whether or not you want it to.
Thank you to the publisher and NetGalley for providing me with an e-ARC of Inside the O'Briens in exchange for an honest review.