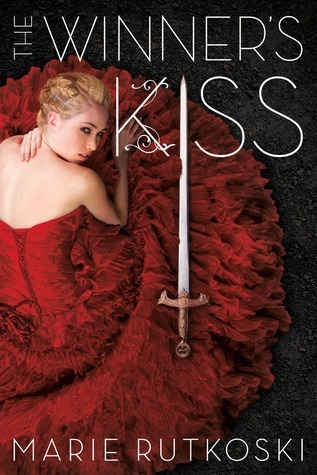 The Winner's Kiss by Marie Rutkoski
My rating: 4.5 of 5 stars
Fantasy books rarely close on such a sweet note. I'm unused to a happy, hopeful ending. (Oh, you authors have broken my heart time over time with all your shenanigans.)
The Winner's Crime ended on such a grim note that I wondered how the situation could resolve itself. Realistically speaking, war can only hold off imperialism for so long and the odds are not in Arin's quaint colony's favor. So even if he wins this spat, Valoria will return one day to conquer this nation again. However, brute force and guerilla warfare may leave scars that will desist Valoria from stepping on their land for a while. That doesn't leave many choices. However, Arin and Kestrel are a force to be reckoned with and they are the perfect couple and tag team to tackled this dilemma. Arin is smart. Kestrel is smarter. With these limited resources at hand, the author really made them work hard for a happy ending.
"What formation would the general use," Roshar had asked her, "for a march along a road of that width?"
Kestrel had paused, fingers on the worn map.
"She can't know for certain," Arin said.
"Here's what I would do if I were him," she said…
At the start of the book, Arin is return to his home heartbroken but not without a measure of hope to move on and deal with the looming war at hand. He struck me as a resilient character and this is such an apt description because he talked a lot about learning from his mistakes. He began to harden his heart to war's brutality and although he bounced back from all these mishaps, he changed cynically. He's determined and resourceful, but the author shows that he is merciful towards Valorian female warriors. In one scene, he hesitates in a moment of weakness which causes him to sustain an injury from a random Valorian female soldier. I liked that he still retains that core of decency and I don't question his actions because this is wartime.
"But this was your true self," he said. "Intelligent, brave, manipulative. Kind. You made no effort to hide who you were. Then I found that I wanted you to hide it. This was the luxury of your position, wasn't it, that you didn't have to hide? It was the doomed nature of mine, that I did. And that's true. Sometimes a truth squeezes you so tightly you can't breathe. It was like that. But it also wasn't, because there was another reason it hurt to look at you. You were too likable. To me."
Kestrel is worse off than she was in the previous books. I really felt for her pain and misery, and I understood why it was better to forget rather than torment herself with memories of her past. In all honesty, she is the better for her experience because her fundamental self is unchanged. She has been strong, tactical, and persistently independent with what she has to work with. As a general's daughter, she lives up to her name and continues to play wargames despite her mental hardships. Arin coddles her with his protectiveness so it's interesting seeing the dynamics between the two. True, Kestrel deeply cares about Arin but she is not as easily swayed by emotions. She does not let emotion color her decisions. However, she is by no means an ice queen. She is deeply traumatized by her recent experiences and suffers through a huge identity crisis. Much of it is internal and she does not express much of it physically.
She remembered how she'd wanted to explain to him that it had rattled her to try to slip into her father's mind, to know that the general's mind and her own felt upsettingly similar. She'd wanted to put her fear inside a white box and give it to Arin.
You, too, she would tell him. I fear for you. I fear for me if I lost you.
War is no place for fear, said the memory of her father's voice.
"Take care," she'd told Arin.
He'd smiled.
Arin, on the other hand, is irrational when it comes to Kestrel. I kept waiting throughout the book for it to come back to bite him in the rear but it seems that there were no severe consequences. Sure, there are some grave risks taken and several heartrending moment in which they suffered grievous wounds. However, they survived relatively unscathed. I think I should feel happy, right? I guess I'm so used to being tricked and handed bittersweet endings that The Winner's Kiss almost seems like a miracle. But a gift is a gift and I'LL TAKE IT.
Thanks, Marie Rutkoski for writing a wonderful book filled with sweet moments, tender declarations of love, and gory descriptions of appendages lopped off.